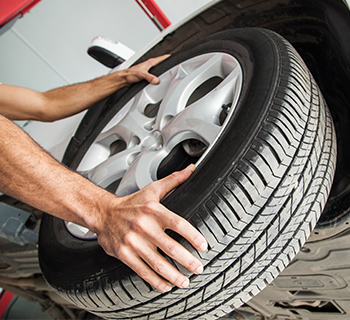 Without reliable tires and brakes, your car isn't going to go very far! Ebner's Auto Inc. is here to outfit your vehicle with trustworthy treads, while also providing the routine brake services you need to stay safe. Whether you need a new set of pads and shoes or you're looking for tire repair in Ambler, PA, we welcome your vehicle.
Count on our team to help you prevent common problems like flat tires and locked brakes. In addition to administering repairs and replacements, we can also give your wheels a cursory inspection the next time you're in for service. The more you know about the condition of your brakes the tires, the more you can do to make sure you're investing in the right services.
Brake repair:

When your pads run thin and you start to notice a decline in response when you step on the brakes, it's time for brake service in Ambler, PA. We'll provide complete repair for your brakes, including replacing pads and shoes, as well as repairing calipers and rotors.

Brake maintenance:

Have a mushy brake pedal? Need to push the pedal all the way to the floor to engage the brakes? Problems with your ABS? We'll gladly perform maintenance to resolve these issues and more, including master cylinder service and ABS testing.

Tire replacement and sales:

If your treads are running bald or you've been having troubles with flats or air leakage, visit our tire shop in Ambler, PA. We'll outfit you with a replacement set that's right for your vehicle and driving style. We also have the ability to patch flats and repair basic tire issues.
At Ebner's Auto Inc., brakes and tires are a cornerstone of our business. We'll make sure you've got the right treads and reliable brakes, so your car handles with precision and stops on a dime. Contact us today at 215-628-0881 to schedule service.